Online Safety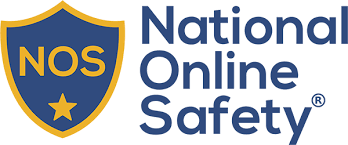 Holy Child P.S. is a National Online Safety Certified School.
As outlined on our 'Using ICT' page we understand digital technology is an essential element of education, business and social interaction. Children use a range of technology at home and in school.
When learning in school children use the C2K system managed by the Education Authority. It is an excellent online system which allows the children to have safe access to the internet. Teachers are also trained in supporting children to safety using technology. Staff deliver lessons on Online Safety to pupils from Primary 1 to to Primary 7.
At home, it is important that parents understand the dangers of using the internet and know that there are age restrictions on many of the apps and games children want to use.
We encourage all of our parents to join National Online Safety so you can receive lots of useful guidance and information on supporting your child at home. To this this, please click the link below:
https://nationalonlinesafety.com/enrol/holy-child-primary-school-1
Holy Child Primary School
Central Drive
Creggan
Derry BT48 9QQ
Telephone: 028 7126 1263